WinSolve
a computer package for solving nonlinear models
---
Introduction
WinSolve is a 32 bit Windows program for solving (nonlinear) models
The prime emphasis of the program is on user friendliness and graphical presentation, making it ideal for new users
It contains all the facilities needed by the professional model builder
It is also useful to the wider academic community, both in research and for teaching.
Announcing WinSolve Version 4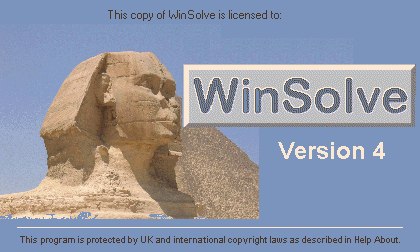 WinSolve Version 4 incorporates the following substantial new features:
Production of true fan charts by stochastic simulation
Automatic linearization and computation of first order perturbation solution using automatic derivatives
Linear-quadratic optimal control

commitment solution
time-consistent Markov-perfect solution

General non-linear optimal control solutions.
---
These pages are maintained by Richard Pierse. Please e-mail any comments. Pages last updated: September 3 2016. visitors to this page since October 2 2002.